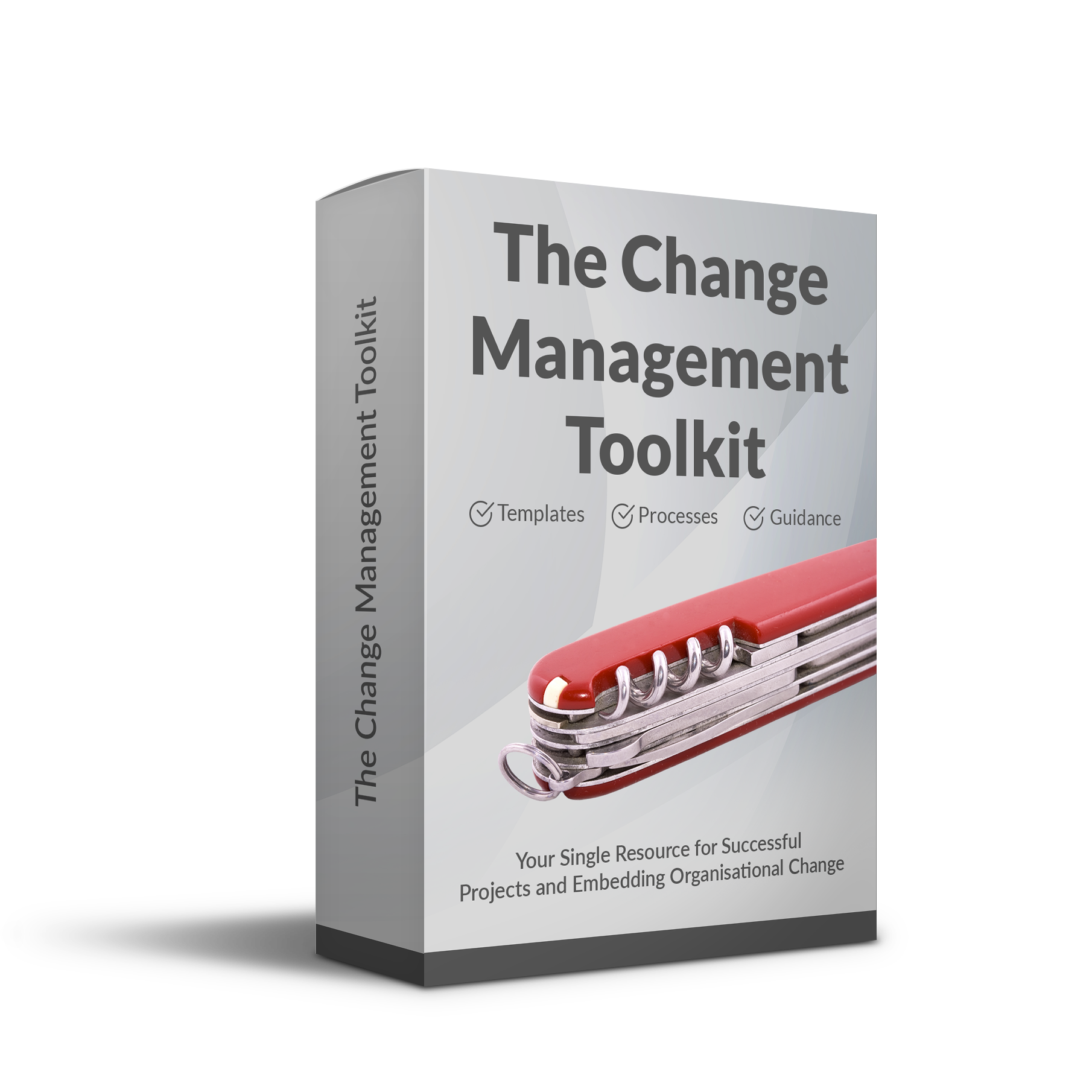 Deliver True Business Transformation with Successful Projects
Your single resource for delivering successful projects and programmes, embedding organisational change, improving user adoption, and enabling business transformation.Delivered as a customisable and extendable Notion workspace with all the business change templates you need.
30-Day 100% money back guarantee if you are not happy with your purchase.
What Is Business Change Management?
Business Change Management is the discipline of leading the people and process aspects of any sort of project or programme.For example, the introduction of a new technology solution represents much more than a shift in technology. To really achieve business benefits, a technology-driven programme must also represent a shift in the way an organisation operates.This is especially true given the changes to everyday activities of the individuals in the organisation. If an employee is either unaware, unwilling or unable to use the new technology, they will simply revert to old ways of working.This is why business change management is a crucial component of successful projects.
The Change Management Toolkit
Delivering projects within time, quality, and budget constraints is difficult! Making sure that business users and stakeholders take on the benefits of what you have delivered, is even more challenging.A business change workstream is essential on any project to ensure that the users and stakeholders come on that journey with you. To change an organisation, you first need to change the individuals.I have built the Change Management Toolkit to help you on your change journey.With the Change Management Toolkit you get full access to a curated set of business change templates, guides, and processes to suit your change management needs, be it a client project or internal project. Built on solid foundations and experience of change management, it's more than just another change management guide. It's a complete framework for leading organisational change and helping your projects succeed.
Toolkit Benefits
A process that takes you step by step through the activities that you need to complete to design and implement an effective business change programme.
All the business change templates and checklists that you will need to support building out and delivering your change management project or workstream.
Clearly defined plans and outputs that will get your stakeholders engaged and supportive of your change project or programme.
What Users of the Toolkit Have to Say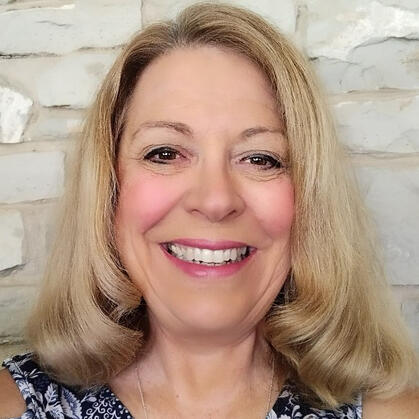 Valerie K. Miller, Design2Train
"I got the toolkit downloaded, wow it is exactly what I needed on a project I just started on. Thanks for making this available on Appsumo. I am writing you a great review on AppSumo. 5 Tacos!"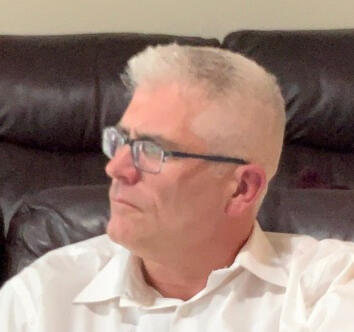 Shane Landstrom, Congruence Academy
"I just wanted to let you know, I just bought the toolkit and, wow, amazing stuff! You should be charging thousands."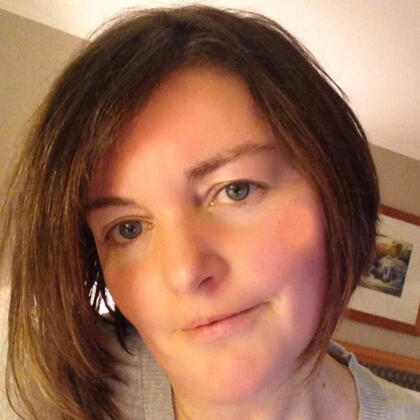 Anneke Sezier, Change Manager
"I found the Change Management Toolkit by chance in a Google search. Everything I thought of developing, you have done for me... and to a much higher standard than I ever could! ."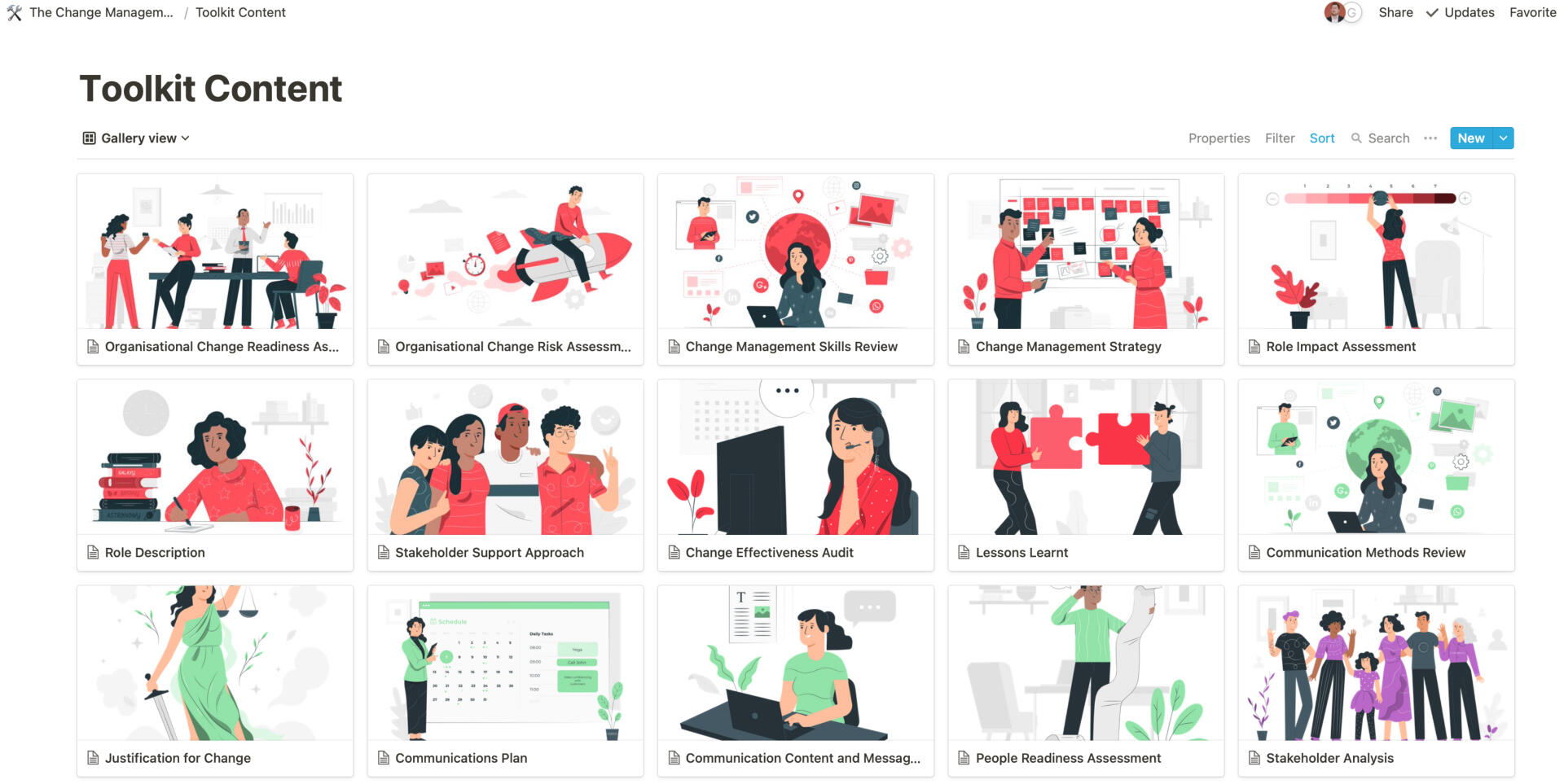 Get Up and Running Quickly
Interactive business change templates for each change management discipline. All templates are ready-to-use and can also be fully customised and extended, to meet your specific requirements.
Gain Insight From the Data You Collect
Use tables to make sense of the relevant information that you collect.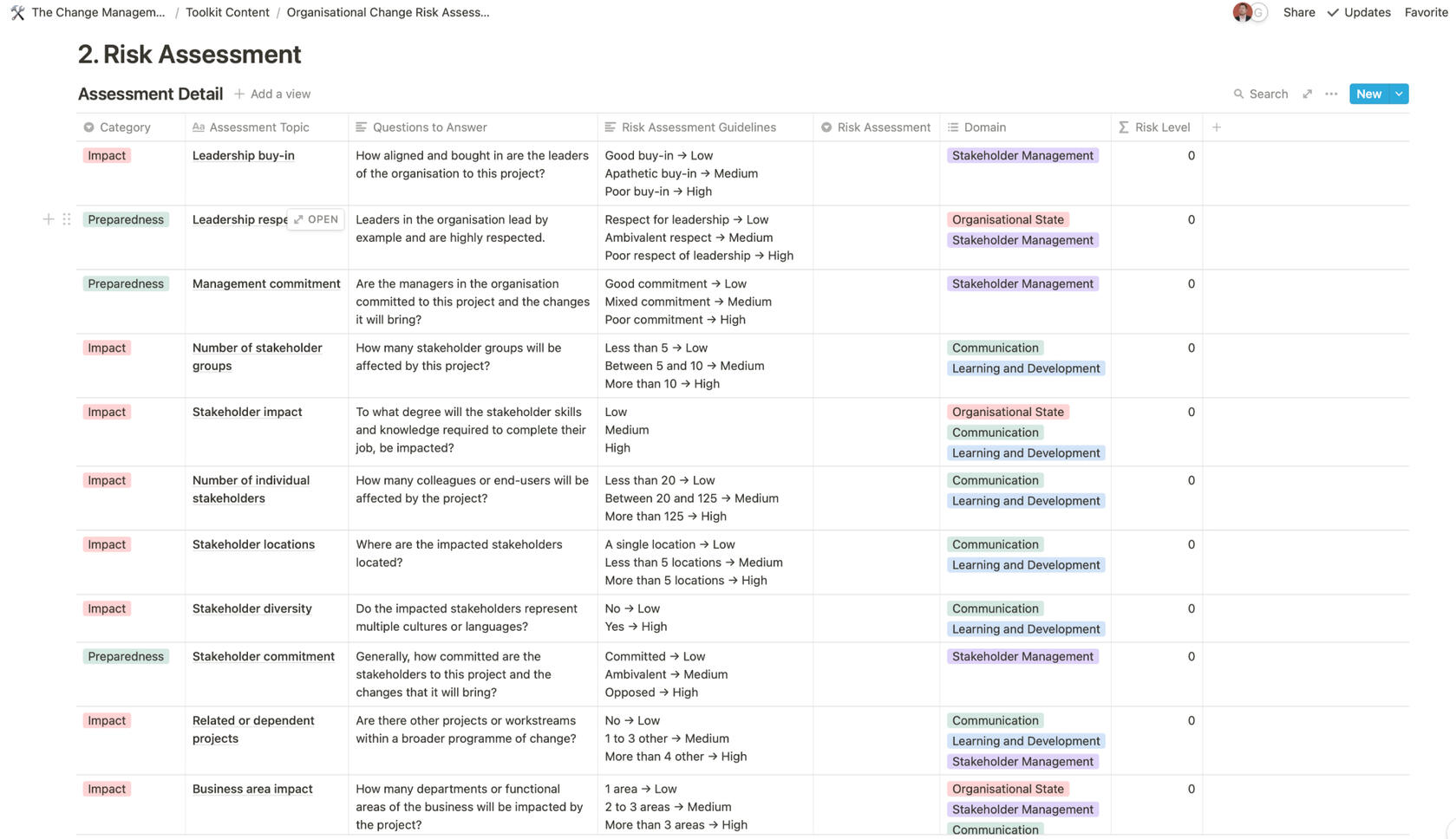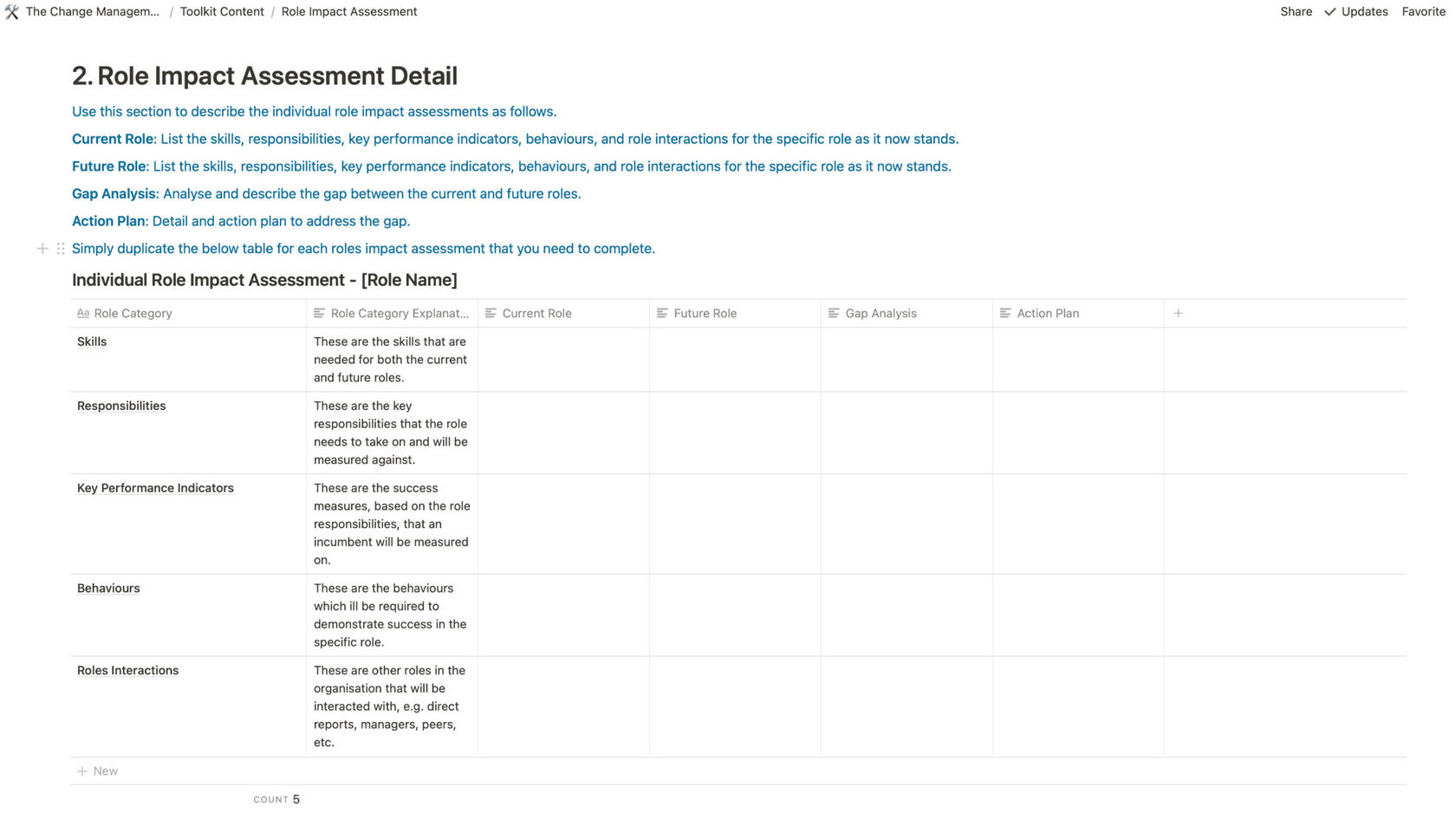 Learn the Art of Effective Business Change Management
Each template includes guidance on using the template. During a project, the templates can be completed as deliverables in Notion, or recreated in your favourite office application.
A Toolkit That Adapts to the Way You Work
When completing any of the included planning templates, view your work activity as a list, Gantt style chart, or a Kanban board.


Pricing
No monthly or annual subscriptions. Pay once, use forever.
The Change Management Toolkit


Lifetime access for a single user to The Change Management toolkit, for use on unlimited projects, with lifetime updates.


$249
The Change Management Toolkit + a 30 minute consultation
The Change Management Toolkit +
A 30 minute consultation to fast track your change management programme.
$299
Frequently Asked Questions
What does the toolkit give me?
The Change Management Toolkit provides you with an end-to-end view of the change management process and 35 project templates that you can use to to deliver this process. Each template has its own guidance and is fully customisable to suit your project.
**How is the toolkit built?
**
The toolkit is built using a platform called Notion, a powerful knowledge management platform.
**Do I have to pay for Notion?
**
No, there is a free version of Notion that you can sign up for. This will allow you to use The Change Management Toolkit and build other cool things too, like wikis, databases, task management apps, and documents.
**How do I get the toolkit?
**
After completing your order you'll receive an email with a personalised link to the full product. You'll need to duplicate this into your own Notion workspace. Don't worry though as there are full instructions and a video on how to do this. I am also on hand to help!
**Will I need to pay sales tax?
**
This depends on where you live and your local tax rules. The Change Management Toolkit is sold on Gumroad and the platform will automatically apply the relevant tax rate to your location.
**What happens if I am not happy with the product?
**
I have a 30-day, 100% refund policy with no questions asked. Although if you are not happy, I would love feedback in order to understand how I can improve the product?
**Is the toolkit good value for money?
**
I think so! I've brought over 25 years of experience delivering projects plus 100+ hours putting the toolkit together into an easy to consume and understand package. This will kickstart your change management efforts on all your projects.
**My question is not covered here
**
Free eBook "Why Business Transformation Efforts Fail"
Not quite sure if the Change Management Toolkit is for you? Join the mailing list and find out more about the toolkit, including exclusive behind-the-scenes information, and a free eBook "Why Business Transformation Efforts Fail"
© Günter Richter 2022. All rights reserved.